Pliny the Younger 2017 Pourings in Colorado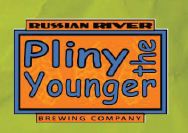 February Only -
Thanks to the wonderful support of Elite Brands of Colorado - you are able to try Russian River Brewing Company's Pliny the Younger 2017 at the following establishments in Colorado.
Each year Russian River crafts limited release of Pliny the Younger and dedicates the proceeds to support breast cancer agencies - in Colorado, where only 6 kegs are available, Sense of Security if the charity of choice.
Visit one of the generous hosts below in the month of February for an incredibly smooth and tasty brew that will help raise funds for our grant program.
| Host | Address | Date | Promotion | |
| --- | --- | --- | --- | --- |
| Falling Rock Tap House | 1919 Blake St, Denver | 2/11/2017 | Doors open at 11:00 am, 1PM Pouring $2/glass donation | |
| Back Country Pizza & Tap House | 2310 Arapahoe Ave, Boulder | 2/12/2017 | Doors open at 10:00 for tkts- 12:00 tapping $2/glass donation | |
| Choice City Butcher & Deli | 104 W Olive Ft. Collins | 2/13/2017 | Tkts on sale @ 11-beer at 4:00 $1/glass donation | |
| Rueben's | 1800 Broadway, Boulder | 2/15/2017 | Pouring at 7:30 PM, $2/Glass donation | |
| Freshcraft | 1530 Blake St Denver | 2/16/2017 | Tickets at 5:30 - 6:00 pm tapping $2/glass donation | |
| Park & Co. | 439 E 17th Ave Denver | 2/17/2017 | Limit 1 per person. Tapping at 4:00 pm | |
| Falling Rock Tap House | 1919 Blake St, Denver | 2/18/2017 | Doors open at 11:00 am, 1PM Pouring $2/glass donation | |
| Falling Rock Tap House | 1919 Blake St, Denver | 2/19/2017 | Doors open at 11:00 am, 1PM Pouring $2/glass donation | |
| Euclid Hall Bar & Kitchen | 1317 14th St Denver | 2/20/2017 | 3:00 PM 100% of Proceeds DONATED!! | |
| Hops & Pie | 3920 Tennyson St, Denver | 2/21/2017 | Doors open at 11:30 for tkts. Tapping at 1:30 | |
| Patrick's | 907 8th Ave Greeley | 2/23/2017 | 2/23/17 50% of sales the entire day!! | |
| Lucky Pie Louisville | 637 Front St Louisville | 2/25/2017 | Tickets sold at 11. Tapping at 1:00pm | |
| Oskar Blues HMLS | 1555 S Hover Blvd, Longmont | 2/25/17 | Wristbands purchased 9-11/beer from 1-6pm | |
| Parry's Pizza & Bar | 100 E 120th Ave Northglenn | 2/25/2017 | Ale Yeah Club member event, $1/glass donation | |
| World of Beer - Cherry Creek | 660 S Colorado Blvd, Denver | 2/25/2017 | loyalty members @11/public @ 12 | |
| Mayor of Old Town | 632 S Mason St Ft. Collins | TBD | TBD | |