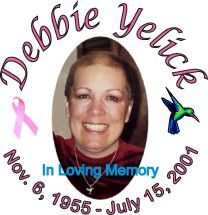 Deb's Hummers - Give Breast Cancer the Boot!
Welcome to Deb's Hummers Team Page
Deb's Hummers was created in 2001 in loving Memory of Debbie Barnhard Yelick.  Please join us as we honor all those who have battled breast cancer. 
Together we can move forward in the fight to find a cure and offer hope and support for those faced with the challenges of breast cancer. 
Early detection is key.
We are excited to announce our renewed partnership with Sense of Security, a Colorado based non-profit who provide direct financial support to families facing the challenges of breast cancer.
GIVE BREAST CANCER THE BOOT !
October 30, 2022
12:30-2:30PM
Ryan Elementary School Ball Fields
5851 West 115th Ave
Westminster